I don't know about you but I totally heart the Target Dollar Spot! Last year I eyed these cute basic tin mailboxes and picked up one after Valentine's Day when they clearence out the Dollar Spot. I've been hanging on to it just to make a little something special for my family for Valentine's Day this year. When I saw that they had them again this year I was delighted and decided to clean out my "things to alter" drawer and whipped up this fun little project.
Here's my finished project from the flag side: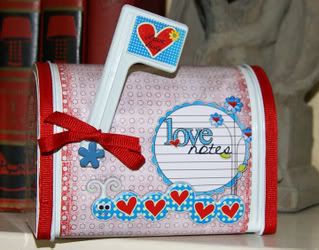 The front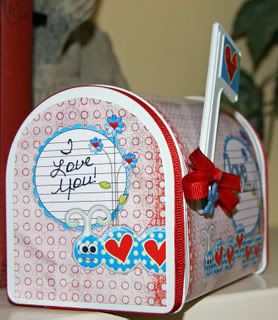 The non-flag side
I used Nikki Beaudreau and Kitty Designs' new collab called Butterfly Girl available at Shabby Pickle Designs to create this project. Check this kit out today for 20% off!
Basic Directions:
Use the
Free Template
I am providing to you to create your mailbox cover designs.
1. On the long rectangular piece you will see there are two green lines and two black lines. You want to position your design for the sides of the mail box so that they are between these two lines. The green line is the base for each side. Don't forget to rotate your design and put the bottom of the design near the green line so that your design prints right side up for the mail box.
3. I provided two smaller rectangles to be used for the front and back of the mail box. All you need to do is to create your design to fit in the square. The same thing with the Flag piece. You can also duplicate the flag piece so that you have a decorative flag on both sides of the flag piece since you can see it from both sides. (I chose to keep it simple and only use one flag)
4. Print your designs out on your favorite type of paper. I would recommend presentation weight paper for this project, however, I used Glossy photo paper because it is what I had and it gives me the best color.
Assembly: The only thing tricky for assembling this project is getting around the flag pole. After trimming the long rectangular piece and wrapping it around my box (with no adhesive for a dry fit) I snipped where the flag needed to go once I got my position right. All I did was just cut in to where the flag hinge was and then cut a circle based on how big the hinge was. I then slid it in. You can see here the slit and how I tucked the paper in around the flag as much as possible. I would recommend trying this with a piece of scrap paper before you do it with your printed design.
For the front and back door pieces you will need to lay your front piece (that comes off of the mail box) down on the paper and trace on the wrong side. Trim inside the line for the perfect sized piece. Repeat with your back door piece.
Cut out the flag and adhere to the Flag pole. I tied on some ribbon and then used some Monoadhesive around the lip of the doors to adhere some more red ribbon.
That's it - not a hard project at all and you could definitely use up some paper scrapping supplies or stamp this project. It has endless possibilities!
If you give this project a try come back here and link me up so I can leave you some love and feel free to pass along the link to my blog to your friends who might like this project.
Juli