I got a big surprise gift from my mom for Christmas. A Cricut! I had lobbied for a Sizzix Big Shot and my DH told me no- didn't need it. My mom had no idea I even wanted a Sizzix, but saw the Circut infomercial late one night and thought I would enjoy it - lucky me!!! These are the first three cards I made with my Circut Create (the smaller machine).
These are from my all day card making session with my friend Kirsten. We played all day New Years Day with the machine while the guys watched football and the kids played. Heaven!!!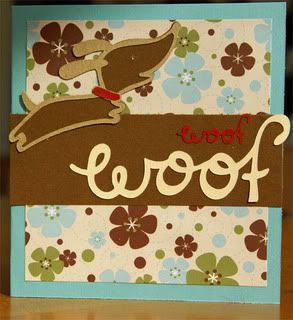 This uses the Paper Pups Cartridge and some Die Cuts With A View patterned paper. I got both that the fabulous Jo-Ann's clearance after Christmas.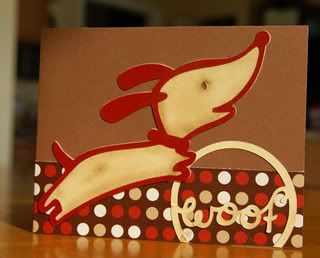 This card also uses the Paper Pups Cartridge and the same DCWV paper pack. I used some SU! chalk to help color the dog.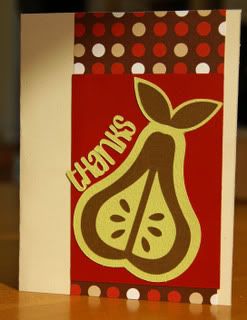 I made this card with the Home Accents Solutions Cartridge that my mom got me as an eary birthday present. :) I used the same DCWV paper pack for accent and the cardstock is most likely Basil and SU!
Vera Lim's CT asked me to join them to be part of their Hybrid Blog Team. This is a really cool gig and I'm so honored to have been invited to join this very talented bunch of ladies. My first project for Vera was also my first ever Digi/Circut project.
A New Beginning Gift Card Bag and Card
I made a 4.75" Cricut Shopping Bag using Tags and Bags cartridge, out of cardstock first so I could measure the paper I cut from and the finished bag to determine the placement of my digital papers and elements. I made myself a little guide template to work from. I ended up being 1/8" off, but I think that was the way I placed the printed design on the Circut cutting mat versus the actual design. The card was designed to fit in the bag and hold a gift card.
This project features Vera Lim's newest kit being released on 1/12/09 at Shabby Pickle Designs.
I'm looking forward to coming up with more projects using my digiscrapping supplies and the Circut. I'm still getting the hang of using the Cricut - I think my 10 year old actually has it down better than me - figures!