Well, I took a little unintended hiatus in December from blogging. Mostly because I starting working full time again and wanted to give it my all - plus with all the holiday stuff going on...it was crazy here!
I am back on the project train again...especially while I'm home this week and possibly next waiting for my background check to go through for my new job.
Here are my first 5 Project 365 photos and some little stories to go with them. :)
Day 1 - 1/1/09 New Years Day - our friends stayed the night with us NYE and then stayed all day New Years Day to play. The guys watched football all day, the women played with my new Cricut machine and the girls (3 of them) took turns playing together and playing in little groups. This shot is of Hannah and Olivia finding a way to play with water in the backyard (they were supposed to be playing bubbles)
Day 2 -1/2/09 Mommy, Daddy and Hannah day. Katie went and spent the day and night at her friend's house because we were supposed to be working on the old house all day. The plan changed and we spent Friday getting ready to work on the house on Saturday when my family could help us out. Mommy, Daddy and Hannah spent the day running errands and just enjoying each other. That night we got out the Wii Fit and had fun playing. This picture is of Hannah taking a Wii Fit break between games (she is so competitive and likes being first!)
Day 3 - 1/3/09 Clean up Day!!! We all went over to our old house and spent the day cleaning, painting, etc hoping to get a buyer for the house. Katie helped me out with the picture for this day - she is going to be my backup photographer for this challenge. So here is Hannah in the grass outside in the backyard near the lake.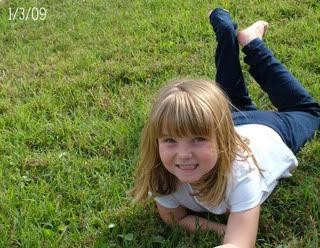 Day 4 - Another Cleaning Day - Jason's old college roommate Mike asked to stay with us because he had a flight back home on Monday. So...more cleaning to get the house picked up and the girls' rooms back in order. It seems that instead of cleaning the girls were playing Hide & Seek - shhhh, don't tell mom (but take a picture)- yeah that's a good plan. LOL!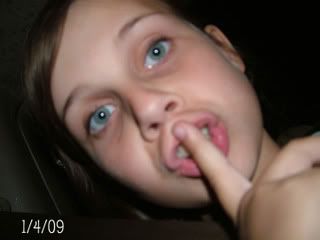 Day 5- 1/5/09 - Peace at last! The girls went off to camp, Jason went off to work, Mike went the airport and the house was quiet for the day (no TV, no music, no nothin'). I decided it was time to start putting away or at least rounding up the Christmas decorations. Here are my favorite decorations - my snowmen. I had to resist the urge to tell them to smile - hey wait, they are already smiling! LOL!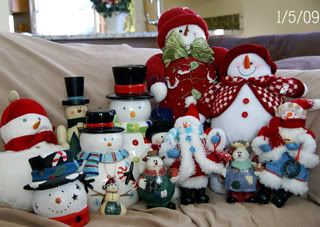 Well...I think this is a good start to the 365 Project, at least for me. Thank goodness Katie is going to help me out. Jason gave her my old Fuji digital camera after Christmas and made her buy herself batteries and she has to buy herself a camera bag if she wants to use it. Honestly, I'm excited to have it out for some quick pictures. Getting out my Sony with the big ol' lense takes a few minutes and I like to put it back right. With the Fuji it's just grab, go and shoot!
Off to make something fun with my digiscrapping supplies and my Cricut - I'll be back tomorrow with some pictures. :)