I'm actually not doing to poorly in keeping up with a photo a day. Thank goodness for my daughter Katie- she helps me out in making sure I remember and in taking pictures for me. Now, I just need to teacher her how to edit photos and how to post to the blog and we'll be all set - HA!

1/6/09
It's Tuesday and it's time to go back to school. As you can see, Hannah, is not all too thrilled about having to go to school. At least she let me do her hair for her.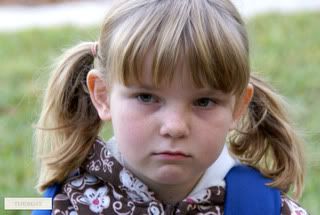 1/7/09
- Katie got up early and took a shower to do her hair. She's even checking it out in the mirror before she walks out the door (she's either loving the hair products I got her for Christmas or there is a new boyfriend she isn't tell us about.) hmmm

1/8/09
- I took a nice walk, the weather was so awesome I couldn't resist. I took a lot of pictures on my walk but I liked being able to see the dew on the grass and the potential for a beautiful day ahead.
1/9/09
- Date day! Jason took the day off from work and slept in after watching the Gators win the National Championship. We went to Dunedin and kayaked over to Caladesi Island. It was a beautiful day and other than the water being a bit cold (and me getting soaked) it was a fun time!
1/10/09 - We met my dad at Lowe's and picked up the girls after them making a time capsule. We headed off to Busch Gardens where I left the camera in the car. On the way home Katie remembered we needed to take a picture. Take a look at the dots on the ceiling of my car - that's what happens when you leave cans of soda in your car, in Florida, in the summer - explosion!!!
1/11/09- A fun trip down a very big hill for a little girl that was very brave!
The little days of the week tags I used came from this awesome kit
- Project
365 Embellishments
by Sugarplum Papier at the Digichick