I have some hybrid cards and another little hybrid goodie for you today. These were all made from the same 1 sheet of 8.5 x 11 cardstock like I talked about in yesterday's post.
Snowdrop Soup Cards
When I saw this adorable kit by Nikki Beaudreau at the Shabby Pickle I just knew I had to work with it! You can check out this awesome kit
here
. Nikki is releasing an add-on to the kit as part of the Pickle Barrell kit coming out soon. If you've never seen the Pickle Barrell kit - it rocks! It's mini kits from each of the awesome Shabby Pickle designers for a really low price. Make sure to check it out around Dec 1st.
To make these cards I simply made myself a little 3.9" x 3.9" template and designed the card front right on that template using drop shadows to make it look like the card is layered with goodies. When the card front was done I merged the layers and copied it over to my 8.5 x 11" canvas for printing. I used some 8x8 Die Cuts with a View papers and just cut them in half, folded and mounted the card front right on the card.
Up close of the owl card - I added some fun red trim by tying it around the card front to make it look more homemade.
Up close of the penquin card (part of the Add On kit) - I punched holes using a handheld Fiskars punch and then put silver brads in backwards so you could see the prongs holding the paper for a different look.
My next card features a cool kit called
Mamma Joe
by Tamara D at Scrappy Thoughts.
I answered a one kit call for Tamara and ended up getting to work with this awesome kit for her. She's a designer I didn't know yet and it was wonderful to get to use her product for the first time - Thanks Tamara!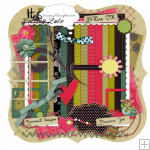 A Cute little project for the holidays - Hybrid Wrapped Candles. I used the Snow Girly kit by Angie Kovacs at Elemental Scraps (which is down for a host move right now - more about some exciting things at Elemental Scraps next week) to make this adorable candle.
As you might be able to tell, this is one of those Glade candles for the holidays that I decorated. I'm going to be making a little box to put this in along with a few other things for Katie's Orff teacher for the holidays. I'll post a picture when I get the whole thing done.
To make this I just made strips like with the Robot Can and then made the front square out of a journaling box in the kit. I placed on the snowman so he overlapped the pink journaling box a bit for some interest and then used TK Peking Chicken Fingers font (Digichick) to type Warm Wishes. AGain - easy, peasy and looks impressive when you are done. I used hot glue to adhere to the glass jar.
I hope this gives you a few more ideas for the holidays! Not sure if I'll be here over the weekend or not. Katie has her 10th birthday party tomorrow night (a 4 friend sleepover) and then on Sunday we are having Thanksgiving with my side of the family at my parents' house. I'm also getting ready to host my first Thanksgiving in our new home for Jason's family (my parents and my sister are coming too!). Lots going on in the Fish house right now - just the way I love it!!!