Yes, I said leapin' lizards and I'm not referring to the play Annie. We have two new residents in our house - lizards! Yesterday I noticed a small baby lizard in the kitchen and I sort of chased him out to the patio so he could find his way back out to the yard. Well not 20 minutes later I was in the pantry planning dinner and low and behold we seem to have a pantry lizard. I thought he was the lizard I chased out of the house - but no. I think this little guy has been living in the pantry for a few weeks now. He seems to like to sit on the snack bin (3 drawer plastic organizer) and check out the world. I'm thinking about naming him - or should I leave that to the girls?
Would you be freaked out? Yeah, well I'm kind of freaked out but at the same time, this is Florida and the weather has been nice to we keep the back door open for the cats to come and go a they please. I know these lizards are a gift from my dear cat Bella. You see Bella loves lizards! She isn't a normal cat that kills the lizard. No, she likes to play with the lizards. So she brings them in the house and tries to put them somewhere she thinks they won't escape like shoes (theres a gross story for another time) and boxes and apparently the pantry.
We also have a lizard living in our office. Since it's a UF Gator themed office I've been thinking of naming that one Tebow, but he seems pretty scared so I'm not sure that's the right name for him at all. Oh, the joys of living in Florida. (Thankfully none of the lizards have figured out how to climb the stairs, when they do I will NOT be so calm. A lizard in my bed - yikes!)
After my lizard expedition yesterday, I picked up the girls and we drove home the long way so we could talk about what they were wishing for from Santa (Hannah still believes) and what kind of things they want to do to celebrate the Holiday. Katie has a good list of things she wants, but it's not nearly as long as it usually is. Hannah as usual, has no clue what she wants. Whatever Katie says she just says "Oh yeah, I want that too." and then Katie huffs and puffs. Jason and I are going to go over the budget for Christmas tonight. This should be interesting! I've been able to buy pretty much what I wanted for three years now. Going back to a true budget and thinking creatively about what we are giving is going to some work. I think though that our kids and our family understand that we just invested a large sum in a new house and I lost my job (though still have contract work) so there just aren't going to be so many presents this year.
I've been working on ornaments for the trees which I'm planning on posting later this week. I still have some more to finish. Today I worked on a Thanksgiving project for Penny Springmann's CT.
I made this adorable little paper gift basket using Pennny's newest kit call Gobble, Gobble (being released at the re-opening of the Sweet Shoppe on Saturday).
I recently joined
Papercrafter's Planet
website, which has a ton of great stamping projects. I saw this cute basket and found a template and thought...I can do that with my digi supplies!
I started out with a free template from
Mel Stampz Blog
. I then copied the template into Elements and used the magnetic lasso tool around the black lines to create a digital template. Then I opened my background paper in it's own file and used the digital template as a clipping mask. I decorated the basket with digital elements and then printed it out on HP Glossy Photo paper. I cut it out, punched the holes as Melanie's blog suggested and tied the box together with some ribbon. The HP logos were showing on the inside so I just lined the basket with parchment paper and then filled it up with cookies. I'm planning on giving these to the other homeroom moms as a little "thanks" next week for Thanksgiving. I think it turned out pretty cute.
Here is a close up of the front and the sides.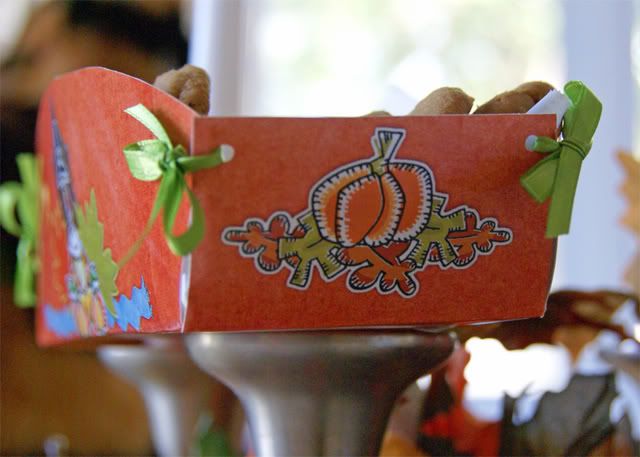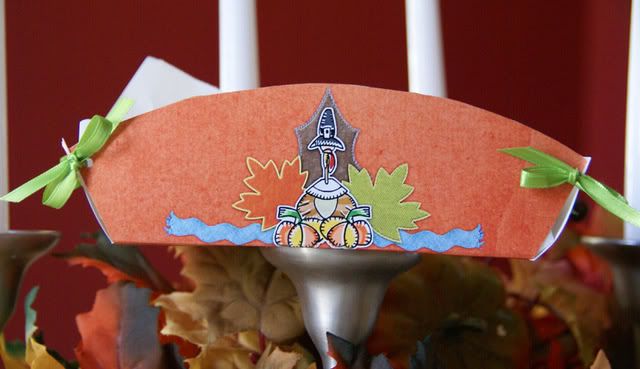 I can see these little baskets sized down with little loaves of pound cake or the same size I made filled with votive candles and holder and a covered book of matches of a sweet hostess gift. No matter what you chose to fill this little basket with - I hope you'll give it a try and leave Melanie some love on her Blog to say thanks for the fabulous template and idea!
Have a blessed day!