Yesterday was the day after our Housewarming party (which was a blast) and even though it was a gorgeous day out Jason and I hung around the house while the kids played inside and out. I got some projects done which felt good!
First I scrapped this page below for Angie Kovacs and Elemental Scrap's Birthday Bash this week.
I used Angie's newest 12 x 12 templates that was released today called
A Perfect Trio
and a collab by Angie and Chrissy W (Elemental Scraps) called
Lakehouse
.
My second project was finishing Katie's 10th Birthday Party invites. This started out with me telling Katie we should just buy some invites and get this done. Katie looked at the invites at the store and promptly told me they weren't really want she wanted and that they were too expensive ($4 a pack). Good news is she's getting the whole "we're budgeting our money" thing. Bad news is she has no idea how long I take when I create things, but for my girls I'll do anything no mater what! Here's what we ended up with…5 totally adorable pillow box invites for a sleep over where I'm sure I'm not going to get any actual sleep.
I created the boxes last week using
Kelleigh Ratzlaff's Pillow Box Templates
and I totally scrap lifted Luann's(Wildblueeyez) Hybrid Invites using Stop! Jammer Time from the Sweet Shoppe. Yesterday I created the actual invite and then did all the printing and cutting while we watched National Treasure. (Does anyone else remember what they were watching on TV or listening to when they created a project? Or is that a me thing?)
Here's the actual invite I made, which went inside the pillow box.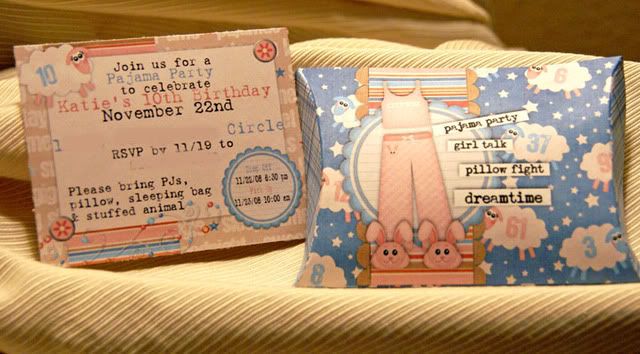 If you like my project then please leave Luann some love
HERE
as I would never have gotten these done had it not been for her awesome project and the ability to scrap lift as needed. Here is her orignial version.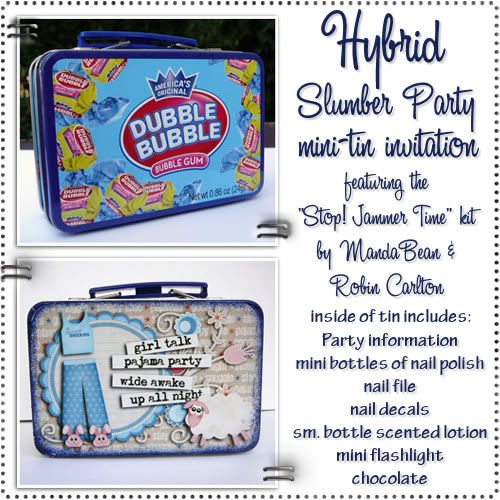 Luann my friend - you ROCK!
My final project was making 25 pins for Katie's class. Today they are having a class presentation honoring those that serve in the military and veterans in honor of Veteran's Day tomorrow. Katie has memorized a long poem about the Flag that she will be reciting. The class also has a person from each branch of the military coming to speak and they will be honoring all veterans that are no longer with us. It sounds like a pretty big production. My contribution was some mini bagels and cream cheese along with these simple pins.
These are super simple. I created the circle in Adobe Elements and then queued them up on a 8.5 x 11" sheet and printed on HP glossy photo paper for good color. Jason helped me punch them all out using my 1.5" hole punch. I had envisioned making ribbons using 1 ribbon that was red, white, and blue and then putting the circle in the middle. Well, Michael's had other plans for me. I not only couldn't find any red, white and blue striped ribbon but there were also no circle woodsies for me to mount on. I got crafty and picked up some of the skinny ribbon that was 5/$1 in red, white and blue and some pin backs. At home we had foam circles just the right size. I just hot glued the ribbon to the foam circle and then put the punched circle over that. I flipped them over and glued on the pin.
Hannah had a field trip today, but decided she wanted one to wear and offered to be my model this morning.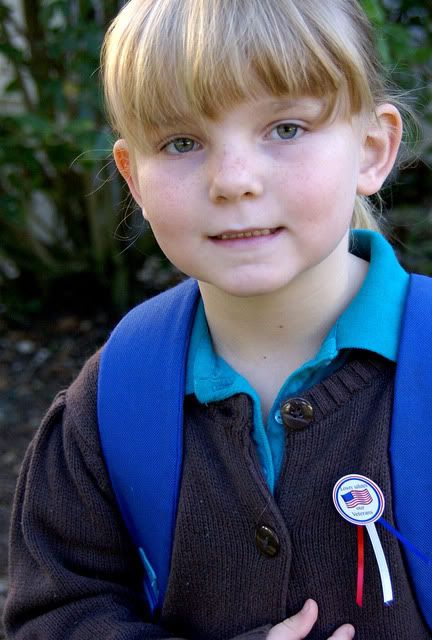 Now, off to stamp a thank you card and get started on a paint can project that I promise to share when it's done.