Today's ornaments feature box templates that have been scaled down to the perfect size to decorate the tree. The great thing about this type of hybrid ornament is that you can use any kit. Christmas themed or to match your favorite holiday color theme.
The first ornament features
Kelleigh Ratzlaff's Tall Box Templates
.
I simply used the box template and scaled it down and then decorated using Penny Springmann's Jolly Jingle kit that was just recently retired. To tie the ribbon on I punched a hole in the top and threaded through some ribbon - easy peasy! You make the project as easy or as hard as you want it to be by how decorated you make the box.
My second ornament features the Take Out Box Template by Kelleigh Ratzalff at Digichick, which I scaled down again.
For this ornament I used SaraAmarie and Mandabean's new kit
Warm Noses and Toesies
(Sweet Shoppe.)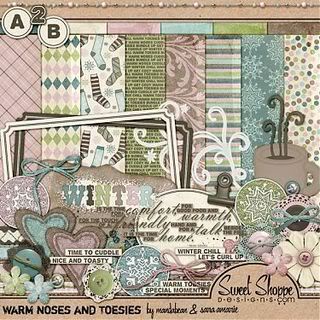 The great thing about this template is that you don't need glue to hold the box together. I just used a silver brad on each side and then used some SU Wire to craft a handle that is attached to each brad. The other thing I did to make this box look more unique was alternate the papers in each section. So the sides where the brad is adhered shows the snowflake complimentary paper that matches the top.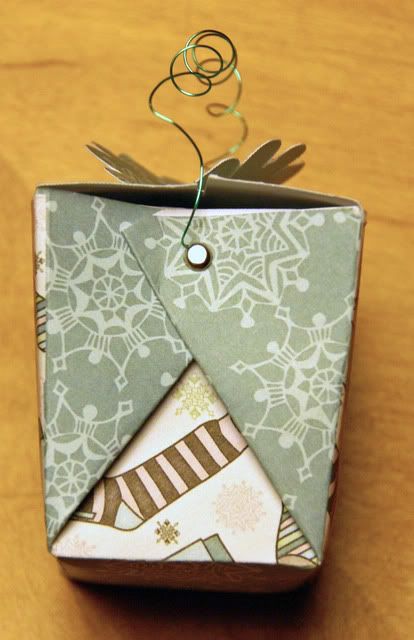 For my final box template ornament I chose to use the Hershey Kiss box from
Jersgirl's template site
. She has lots of awesome templates on this site! For this one I didn't have to scale it down - I just expanded the template by copying it from the PDF file and pasting it into Elements and then resized to fit 8" across.
I used Zoe Pearn and Melissa Bennet's new kit
Deck The Halls
(Sweet Shoppe) to create this fun ornament.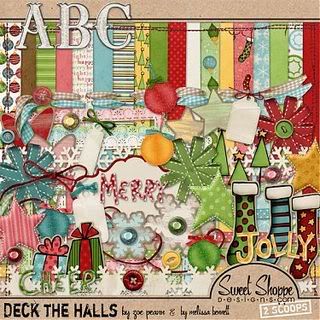 These are super simple and you could fit two on a page easy. To attach the ribbon I just punched a hole in the top of each triangle and then assembled and tied on the ribbon. Again, easy peasy and cute as a button.
Tomorrow I have ornaments that use left over alphabet chipboard as the base for a hybrid ornament. Come back and see what's new!