Welcome Blog Hoppers and anyone else that happens to stumble on in for some hybrid inspiration today! I have a few projects finished that I've been working on that I'd love to share with you.
Refreshing Soul Birthday Bag
Supplies:
Refreshing the Soul
Digital Kit by Karen Lewis at the Digichick
Digital Template - Treat Bag: Pointy
by Kelleigh Ratzlaff at the Digichick
DCWV Cardstock (Yellow), Buttons and Lime green paper flower
Basic Directions:
Using the Pointy Treat Bag digital template - create your basic bag using your photo editting software and Refreshing the Soul digital kit. (Brown background paper and the Happy Birthday decoration are all digital) Print on to presentation paper, cut out. Using the cut out bag as a template trace the pointy flap on to yellow cardstock. Cut out using scissors and apply to the folded over flap. Cut 3/4" strip of paper for handle. Attach handle with glue and then adhere buttons over the handle. Attach flower and button on front pointy flap for decoration.
Here's a closer look at the side and the flap
Penquin Scalloped Bag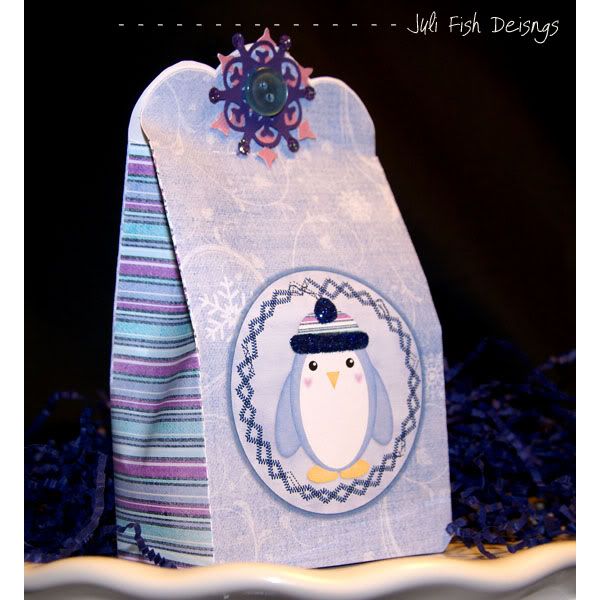 Supplies:
Winter Kiss Digital Kit
by Traci Reed and Scrapkitchen Designs at the Sweet Shoppe
Digital Template - Treat Bag: Scalloped
by Kelleigh Ratzlaff at the Digichick
Glitter
Season of Joy Cricut Cartridge and Cricut
Purple and Blue paper
Basic Directions:
Same as the bag above, use the digital template and digital kit to design your bag. Print and cut out bag, score on lines as instructed in the template. Use the Cricut and cut out two different shaped snowflakes (1 1/4" and 1 3/4"). Use a glue pen to apply glue to penguin's hall brim and ball - sprinkle with navy glitter. Use glue pen to apply glue to the round ends of the smaller snowflake and apply purple glitter. When dry, glue snowflakes together and attach a complementary button to the assembled snowflakes. Assemble box. Instead of folding flaps over, bend flaps up so they meet, gently bending in the sides of the box - use glue to adhere top together and then attach assembled snowflake.
Here is a closer look at some of the details: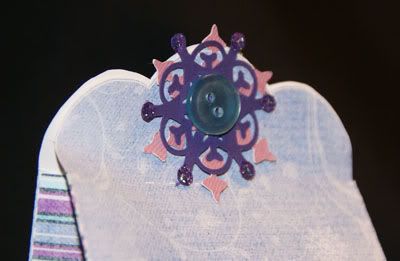 Looking for some more hybrid projects? Check out these fabulous blogs today - you never know what you might find!!!
Kelleigh
Sunghee
Laura
Christy