time to get your picture pages, time to get your crayons and your pencils. he,he Do you remember that song? You're old! ha! So am I. Wa!
Well Happy New Year! I told myself and several of my digiscrapping friends that this year I wasn't even going to attempt Project 365. I lied. I realized last night that I had taken a picture a day for 4 days in a row without even trying to I mine as well just see if I could keep it going awhile longer. My original goal was to take a picture a week and scrap about that one picture and everything that happened that week. For me that goal in and of itself is huge. So...instead of making a promise or resolution I'm just going to go with the flow and see where this whole Project 365 and Project 52 take me (hopefully not over Insanity Falls, I'm already on a boat headed that way with work and motherhood).
On the to the show....
This week's date markers are from a kit called Spring Anticipation by Karla Dudley coming the Digichick on Thursday, January 7th. She's also releasing 3 new Digital Element kits that are perfect little add ons for any page - check them out. I really like Karla's style (and no, she didn't pay me to say that - but I did get her stuff for free cause I'm on the Digichick CT.)
So what have we been up to...let's take a look and see.
January 1st - New Year's Day
Let's not talk about my sister's dog that stayed over night or my neighbors blaring salsa music - okay? Let's talk about a day in our PJ's, eatting yummy food, playing games and with Christmas toys, visiting with good friends and eating more yummy hubby smoked food (needed a little variety). The Gators won Tim Tebow's last game - it was a great day! My highlight of the day was Hannah taking her new Rescue Pet Swim To Me Puppy for a swim in the pool. Yeah, it was cold here by Florida standards, but that's okay - the puppy is plastic he won't catch a cold.
As you can see yo the left, Hannah was wearing her new favorite boots from Aunt Michelle, her Christmas PJ bottoms from mom and her Philly T-shirt inside out (no idea why). She is trying to fish her swimming puppy out of the pool without falling in. All while Olivia is watching from the swing on the patio. After the puppy was rescued from the chilly water Hannah wrapped him in a towel like any good mom would and snuggled him up. Thanks for the swimming puppy Grandma Sue - she loves it!
January 2nd
- The coldest visit to Disney evah!
We met my parents at Hollywood Studios for a day of Disney fun. Hannah was chosen to announce the Voyage of the Little Mermaid before the show - she was nervous and a litte shy, but did a great job.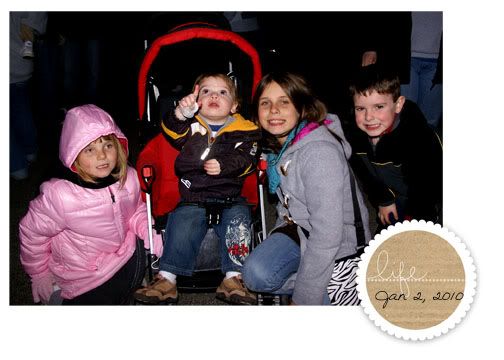 Katie rode the Tower of Terror for the first time and loved it. In the evening my brother and his wife joined us so we could all go see the Osbourne Lights. It's always so nice to have the kids together and to spend some time with my sister-in-law. The picture of the day is of my girls and my two nephews. These cousins really don't get enough time together, but we were happy to enjoy the short visit we had on Saturday!
Janaury 3
- Another cold day at Disney
After a warm, hearty breakfast, we ventured out to Animal Kingdom with my parents. Katie was super excited to ride Exbidition Everest and even got Papa Ken to ride. :) We alternated between trying to stay warm inside by drinking hot chocolate and walking between rides. The picture of the day is of Katie and Hannah in front of a giant snowman in Dinosaur Land. We only made it until 3pm and then we had to head back home because it was so cold (even though we were thoroughly bundled - thanks mom!)

January 4
- Getting back to normal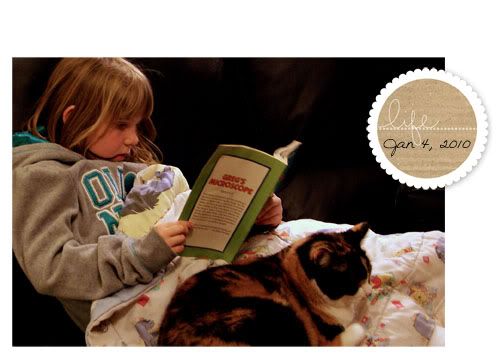 The girls went back to school. Jason worked from home and I headed to work loathing the fact Jason was working from home (all snuggly and warm). I went and got my haircut after work (yes - I just updated my avatar last week with a new pic and now I look totally different). I came home to find Jason at the kitchen table trying to help both girls with their homework. No dishes done, no dinner cooking...grrr. So while I whipped up some dinner Hannah headed to the couch to do her reading for the night. So instead of a picture of my new hair cut you get a picture of Hannah and Cali snuggled on the couch just as it should be. Life is good!