- trying to become a blogger
- someone who loves to make lists
- a mother, a wife, a daughter, an employee,a sister, and a friend (pretty much in that order)
- seeking something to add to my life to feel more fulfilled (and I don't mean a new husband or another child! ha!)
- a woman trying to get healthy and fit (not thinner and more beautiful)
- working on learning how to use all my camera's functionality
I am...a work in progress!
Well, yesterday turned out to be a pretty good day. My hands, mouth and head must have listened to our little conversation during my walk yesterday morning. Since yesterday was so successful I decided to walk again this morning. I brought along my camera hoping to capture some the of the beauty I witnessed yesterday. I left 10 minutes earlier and the light was awful, and the sunrise not nearly as beautiful as yesterday. Tomorrow I'm going to back to leaving around 6:20 to see if there is a difference in light.
I did capture an image I'd like to share with you. I've been following the
Poppy Talk's Summer Colour Week
project where pictures featuring the color of the day are highlighted and then everyone is invited to submit their own photos to share. Today's colors are red and white. I found a great sign to photograph on my walk which I hope to share here tomorrow. I've got some lunches to pack and a shower to take before I leave for work. Bleh!
Before I forget...Today is release day at
The Digichick
. If you are a digital scrapbook addict, I mean fan...you should check this site out. I really love the diversity of kits they offer and the forum is really friendly. I have been honored to be on the site CT for over 2 years now and I have to say that every week I'm blown away at the kits and the layouts I find there.
Here's what I made this week with Dani's
Vacation Bible School Kit
. This kit has lots of great bright colored papers and elements. If you are into Sunday School or VBS there is some really cute word art included in the kit!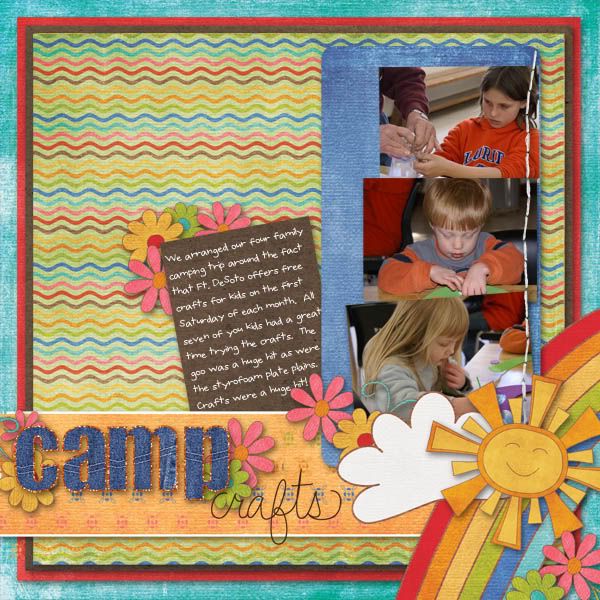 I also got to work with Girl Friday's lovely
Minty Popsicle
kit (oh how I love her tone on tone papers!)
New releases are 20%
off today and tomorrow so go check it out and while you are there pop in the forum and say hello!