Not sure what to give your Dad or your honey for Father's Day? My favorite gift to give is a gift card (especially to my step-dad!). For the man that has everything - here's some money to go buy something fun to tinker with - really, is there a better gift? I don't think so.
Finding a unique way to give a gift card can be a daunting task. I like to be creative and find something different so the reaction is - oh, a card...great I bet there is a gift card in there...how thoughtful. Bleh! Inspired by some bags I saw at
Twig and Thistle
, I create these tie bags using my digital scrapbooking/digital hybrid supplies. I just know these are going to be a hit!
Supplies -
He's The Man digital kit by Traci Reed and Dani Mogstand at Sweet Shoppe
Fancy Bag
template by Kelleigh Ratzlaff at The Digichick
Ruler, scoring tool
Scissors
Double stick tape
Gift Card
1. I opened the Fancy Bag template in my photo editting software. To make the collar looking flap I modified the wavy flap edge by creating a basic rectangle to go over the flap. I merged the rectangle to the base template layer to make a new template.
2. I placed the tie element from He's The Man on to the bag to size. Once I had the tie sized correctly I rotated it and placed it in the open spot above my bag template so it could print on the same sheet of paper with my bag.
Here's a little peek of what my revised template looked like: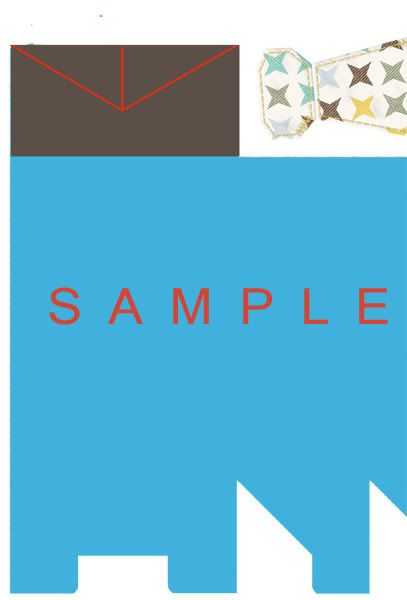 3. I used my newly revised bag template created in Step 1 as a clipping mask. I used the papers from He's The Man for the base of the bag and chose patterns and colors that would compliment the ties I chose.
4. I printed my project on to white color laser paper (my printer still won't take a sheet of cardstock -phooey!). I cut using scissors and then scored with a ruler and scoring tool.
5. To make the collar out of the flap, I eyeballed what I thought was half way across the flap and cut up with my scissors about 3/4 the way to the fold. I then made an angle cut from the left edge of the flap up to straight up the middle cut and then repeated on the right.
6. I quickly assembled the box using double stick tape. Inserted my gift card and then attached my tie.
Seriously - it took about 10 minutes to make all together and it's a totally adorable and unexpected little something for Father's Day.